JMS Professional Package
JMS Professional package combines JMS 3D with our cloud management tools to give you the greatest level of detail and control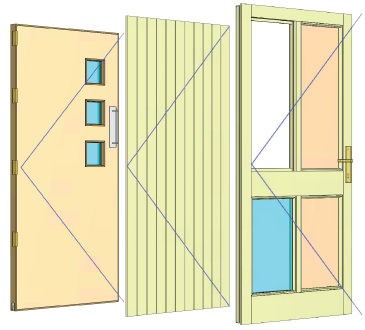 Quoting and manufacturing software for all types of joinery in any quantity! JMS Pro is unique in offering accurate costing and manufacturing software integrated with 3D design and management tools specifically for the timber joinery market.
The JMS Professional package combines JMS 3D which can be linked to any of our optional modules for windows, sliding sash, doors, screens, etc and JMS Cloud which holds all your management information in the Cloud available on multiple-devices 24/7.
JMS Professional is designed for larger joinery companies, typically with 10 or more employees, or those who require more detailed management reports. It provides 3D visualisation, cross sections and cut outs, useful for confirming details are correct before manufacture or communicating with the workshop and showing to customers.
JMS Professional brings you full access to JMS Cloud providing control to manage your business with detailed tracking scheduling and process management.
In common with the JMS standard module, our Professional package provides everything you expect from Joinerysoft; Professional customer printouts including estimates or quotations, order confirmation, delivery notes and invoices as well as everything you need to run the workshop. Workshop printouts include material ordering for glass, timber & fittings, and cutting/mill sheets. JMS Pro also links with CNC machining centres if you choose the optional CNC output module.
For more details about each of the reports or printouts available with JMS Pro please navigate to the Reports & Printouts tab in the main menu.
JMS 3D Modules
Being modular based you can choose the modules that are relevant to your business and the joinery you sell. Please check out our optional modules in the main menu which give detailed pictures of the features and benefits of each module. All JMS Pro modules contain the functionality of the JMS standard control module with the core features and benefits of the JMS 3D control module too, including 3D design, cut outs and cross sections. You need to choose at least one module for JMS 3D to run.
Features
JMS 3D Includes:
New Enhanced 3D Solid Modelling Engine to Help with CAD Drawings
Cross Sections
Cut Outs
Curved Joinery
CNC Output (optional extra)
The JMS Cloud includes:
Built in CRM
ERP Enabled
Project / Revision Based Planning
Workshop Scheduling (Interactive Gantt Chart)
Accurate Process Based Costing & Timing Modelling
Enhanced Report Engine
Whatever you're looking for, if you manufacture custom/bespoke timber fenestration such as windows and doors and want to have more control of your business, our JMS Professional package provides the solution.
Why not speak to our Sales Team today or click the Book Demo Button to see JMS Professional in action. Phone us on +44 (0) 1608 643302.
Click on the button below to view our JMS Professional brochure
JMS Pro Installation & Training
Every customer is allocated a dedicated Training Manager who will oversee your training and configuration. All our training managers are time served joiners and they work closely with you to help you get up and running with your new software as soon as possible.
Your training manager will help you to set up accurate costs and timings and can use your real jobs as examples. Our trainers give you the confidence to go it alone - though our customer support team are only ever a phone call away.
"The installer was on our wavelength - he really understood our requirements."
Joinerysoft runs JMS Pro workshops to provide an overview of the software to  help get you and your staff started with the software. We also recommend you budget between 5-10 days configuration and training, purchased seperately. This can either be at your premises or at Joinerysoft's offices based in Oxfordshire or Shepton Mallet.  

For overseas customers we are able to remotely install and train over the internet using LogMeIn and can schedule blocks of hours at a time convenient with you. (There is a minimum of two hours training per session.) All overseas customers receive the equivalent number of hours training as UK customers.
JMS Pro Support
We work with our customers to ensure that you are supported every step of the way. We include 12 months support & maintenance with your initial purchase and then recommend you renew this every 12 months.
As part of your support and maintenance contract you get:
Telephone support during UK office hours and at other times by pre-arrangement
Remote login support to demonstrate 'how to' in front of you or fix any problems
Email Support
Latest enhancements, bug fixes and new releases as they become available
Customer area including video tutorials
U-value calculation and certificates (currently in JMS v2)
CE marking including Factory Production Control (currently in JMS v2)
Non rectangular items including curves in JMS v3
Machine links (additional charges apply)
Without a valid maintenance and support contract these features will not function.
How to get support
Joinerysoft provide a range of ways to access support, designed to make your life easier.
Email
Telephone
Interactive Help with JMS - Simply press i button
Email: support@joinerysoft.com
Our support team are based throughout the country. When you ring we will take your number and one of our friendly joiners will call you back shortly.
Telephone: +44 (0)1608 643302
If you need more support than we can provide over the telephone we can log in to your computer, using LogMeIn software, which allows us to correct a problem or demonstrate how to do a specific task. Whatever your problem we are on hand to help.
Interactive help is also embedded within our software. Within JMS simply press the i buttons to view context sensitive help about your current task.
JMS Pro Hardware Requirements
To get the most out of JMS you will require an internet connection with at least 1MBps download speed.
You will require a JMS Server plus a client computer for each user. The number of users you have determines how many people can be logged in at any one time into JMS Pro.
For the full technical specification of hardware requirements for JMS Pro please click on the link below.
Image