Discovering a hidden passion for working with wood through an apprenticeship at a sash window company straight from school, Robin Carter 10 years later formed his own company RL Joinery based in Wokingham, Berkshire. Robin's broad knowledge of joinery results in a varied workload including sash and casement windows, doors, stairs, gates, and furniture such as wardrobes, TV cabinets and libraries.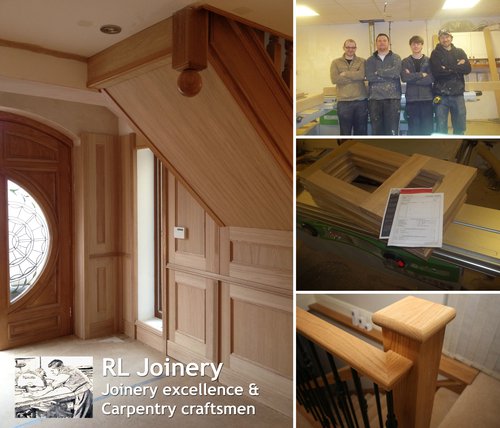 Setting up the business resulted in significant investment initially for Robin, and with the cost of machines he didn't feel he could justify the expense of software. After paying off the machines Robin took another look at Joinerysoft's Joinery Management Software (JMS) with a personal demonstration at his premises. He now wishes he had taken the plunge earlier, as in the four months since he has purchased the software he can already see it paying for itself.
After just 2 days training Robin was able to set up JMS specifically for his company and joinery. He says, "Once it's set up it's a doddle. Quotes that used to take 1 hour now only take 20min with drawings. I even take my laptop out to customers now and price the windows in JMS as the customer chooses the design. The customer can see the design taking shape and can choose/remove glazing bars, materials and glass. The instant price calculation reflects the materials used and changes with the design helping customers to understand where the price comes from."
"Using JMS has given me an advantage", says Robin. "Every window is clearly laid out so it is easy for the customer to see what they are getting and check that nothing is missing from the order." This has resulted in cost savings as Robin rarely gets disputes because the specification of every item and finish is clearly laid out with JMS true scale diagrams. Robin adds, "I believe the speed of quoting within JMS has led to me winning more orders as customers see my business in a more professional and efficient light."
Improvements have been apparent in the workshop too, as Robin remarks, "JMS cutting lists provide an effective method of communicating across the workshop. Everyone can understand the clear reports so there is less confusion and discussion and the joiners can get on with the job. The workshop is probably 25% more efficient with the introduction of JMS and Robin is sure the increased efficiency will lead to improved profitability of the business.
The ability to provide u-values with JMS is a key sales tool for Robin who points out to clients that they require the u-values for external doors and windows, particularly if they are likely to sell their house at any stage in the future. Solicitors could ask for the u-values of all external items installed since the building regulation came into force in 2010.
With a good local reputation fuelled by word of mouth Robin has also tapped into the modern communication of facebook and successfully launched RL Joinery's facebook page which provides a show case for his work and also provides an opportunity for potential customers to ask for advice. Robin says, "The response through facebook has surprised me, and led to new enquiries."
Robin believes that having software is important in today's competitive market and provides him with the skills he needs to keep ahead and grow the business. He adds, "The speed in which I can now quote means that I am able to quote more and therefore win more orders. The improved efficiency through the workshop with JMS also means that I can complete more jobs."
Robin summaries the benefit that JMS brings him by saying, "The software is so fluid it can cope with the bespoke joinery that I produce. Changes to orders don't give me a headache anymore and prices, glass orders and cutting lists are updated automatically so I don't have to check a thing. My family have noticed the difference the software has made by giving me back my evenings I can spend with them. The pile of paperwork I used to bring home is a thing of the past."
RL Joinery