Though initially hesitant to purchase quoting software when David Lennon, Director of A Dee Kay Joinery viewed the improvements to Joinerysoft's JMS (Joinery Management Software) he was so impressed that he decided to purchase it immediately. With significant advances being made in the software all the time, David decided that it would benefit A Dee Kay Joinery to be involved in future developments helping to improve the software from the inside. He says, "Purchasing JMS seemed a big outlay at the time, but the time savings and professional boost it has given to our company is worth every penny."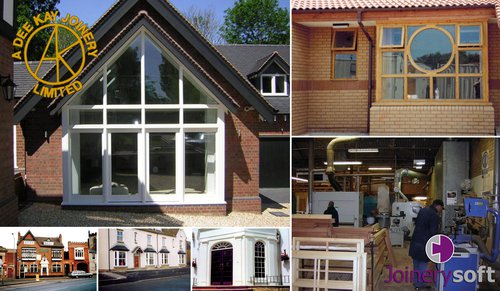 Based in the centre of Birmingham, bespoke joinery and specialist sliding sash company A Dee Kay Joinery provides custom design and manufacture of high quality timber joinery. The large number of traditional properties in the area with sliding sash means that this is a large proportion of their business. The company has grown steadily over the years mainly through word of mouth. With a team of 12 joiners on the shop floor they can take on any work and turn nothing away.
Finding the software relatively easy to learn, David confirms "JMS is definitely user friendly. The menu structure makes it easy to find what you are looking for and the software uses joinery terms. I found it useful after the training to just have a go for myself," says David. "Learning is much better that way and support is only a telephone call away."
David who uses JMS constantly has noticed huge time savings since purchasing the software. Quoting used to be calculated manually, adding up the cost of timber, the hourly labour rate, glass prices per square metre and adding it all together. He admits this was a time consuming process and says "quoting is now 80% quicker with JMS." The quicker response time is also backed up with professional quotations which JMS automatically generates with accurate prices and true scale diagrams. Quotes can even be emailed directly from JMS. Setting up the system initially with cost files for timber, glass and hardware means that designing, pricing and manufacturing windows, doors, and staircases is easy with JMS. With price changes and profit margins easy to adjust A Dee Kay Joinery can stay competitive and know their costs. Customers find the JMS quotations easy to understand and David believes the professional approach has definitely contributed to winning orders.
One of the advantages of the software is that orders can easily be recalled if a customer wants to make changes or repeat the order. Changes can be made simply by pointing and clicking on the relevant item, such as changing from a flush window to a storm proof window or quickly changing from hardwood to softwood.
The ability of JMS to accurately calculate glass and weights for sliding sash has significantly improved turnaround speeds in the workshop too. The time consuming process used to involve measuring for glass, waiting for it to arrive then weighing the casement and glass together before ordering casement spirals and weights. David is so confident in JMS' ability now that he can pre-order glass and weights before the job is even begun. He confirms, "We've just completed a job of 50 box sashes. This involved 600 pieces of glass and I'm thankful that I don't have to measure these by hand anymore. We supply work unglazed as a rule and customers value the glass sizes at the beginning of a job so that they have time to shop around for glass and order it in time for installation."
"The best thing about JMS for me is that it saves me time that I can spend back in the workshop. It makes my life so much easier. The professionalism of the quotes that I send to customers makes A Dee Kay Joinery look good." David adds, "I am constantly recommending Joinerysoft to other joinery companies. If you don't already have joinery software I would advise you to purchase JMS straight away and start reaping the benefits of greater efficiency, time and cost savings."
A Dee Kay Joinery Ltd
Tel: 0121 766 6036