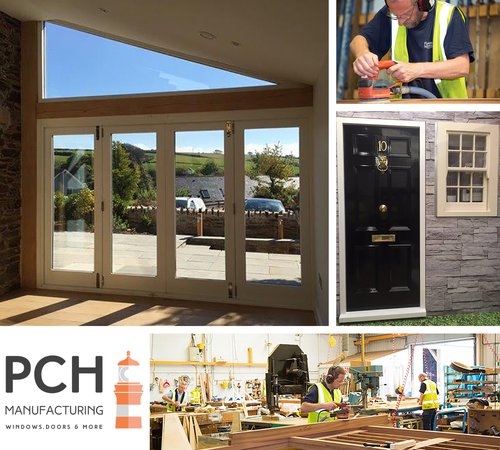 When Plymouth City Council first reviewed software for their joinery workshop their prime concern was CE Marking. As a local authority, audited regularly, they needed to be compliant. They investigated Joinerysoft's Joinery Management Software (JMS) solely because it provided this feature but found time savings in quoting, professional reports and improved communication, both in the workshop and with customers, made the case for purchase easily justifiable.
Simon Walker-Smart, manager at the renamed Plymouth Community Homes (PCH) Manufacturing, explains that purchasing within the local authority requires a well formed business case before approval is granted. The entire management team saw a demo of JMS and Simon could instantly see the time savings that could be made in quoting alone. It made the business case for purchase that much easier.
Changes within the local authority mean that PCH Manufacturing are now a separate business enterprise and while they once solely provided joinery for Plymouth Community Homes they now also provide services to the general public too. Using JMS for the last year has made it easier for Simon to take the joinery workshop in a new direction. Their experience making window and doors is reinforced by the professional quotations produced by JMS and Simon comments that he's already received favourable comments from customers who are impressed with the layout and drawings which accompany the quotes. He adds, "There is nothing like JMS on the market. The way it presents the quotes to the customer is brilliant and if the customer wants to make changes we can easily do it with the push of a button."
Since using JMS Simon has been able to manage his meetings and other workload more efficiently due to the ease in which he can generate a quote within JMS. Simon explains, "I can walk away from a quote and come back from a meeting to pick up where I left off with no hassle." He adds, "While I am away others can open a quote and understand what it is I have done."
One of the biggest benefits Simon has found with using JMS is the amount of time that they have been able to save on quoting. He reveals that he is able to send out quotes within an hour and this has resulted in a rise in the amount of orders being won. Simon confirms, "We are winning more orders as JMS has given us a competitive edge." He adds, "With JMS I am able to complete all of the quotes I need and still have time to go to meetings to plan other aspects of the business."
Cuttings lists produced by JMS have simplified the production process. Time is saved as Simon no longer has to explain each job to the joiners, and thanks to the detailed information the time taken for production has also been reduced. Simon says, "JMS has allowed us to reduce the number of times that the timber is moved between the mill and the workshop. The machinists can now cut and set the wood out themselves before passing to the joiner to complete the assembly process." He adds, "There is no longer any confusion on the shop floor so this saves us time and money!"
Joinerysoft's newly introduced JMS-Setup wizard has been very beneficial to Simon. He explains, "I think the JMS-Setup wizard is really good. We use printouts of it on site so that the surveyor can gather the correct information we need for each job."
Two days installation and training is provided by Joinerysoft on initial purchase of JMS, and telephone support is also available after training for any extra help. Simon states, "JMS is built by joiners who speak our language so when I ring up to ask a question they know what I'm talking about".
Simon is currently managing the rebranding of the company as it focuses more on joinery for the general public. He says, "JMS has reduced my stress managing the workshop in the changing market place." Simon concludes, "Once I started using JMS I wondered how I ever managed without it before. The convenience of it is superb as it makes jobs easier to handle from start to finish." He adds, "I can produce quotes for the customer in hours now rather than days and can email it across to them so they have it instantly."
Plymouth Community Homes Manufacturing
Tel 08001 114328
Simon.walker-smart@plymouthcommunityhomes.co.uk