Businessman Malcolm Rogerson started Oakwood Joinery Services in 1996 after finding it difficult to source timber windows for his own development. Oakwood Joinery Services now have a reputation for providing high quality custom built joinery throughout Suffolk and beyond. Using traditional skills the 18 strong team of joiners at Oakwood Joinery Services supply a wide range of bespoke joinery including windows, doors, stairs, and reception desks. Unusual sizes and shapes are part of the service they offer.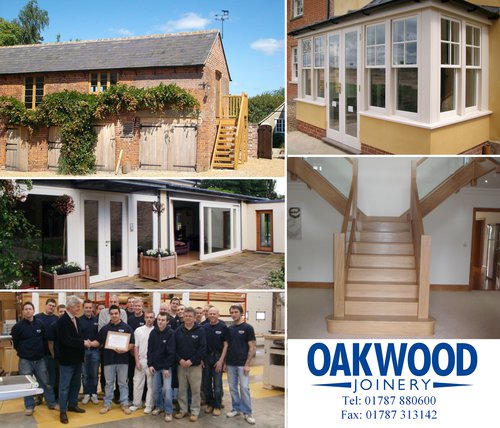 Keen to install software that would provide efficient processes within the company, owner Malcolm Rogerson chose Joinerysoft's Joinery Management Software (JMS) which provides a complete package from initial enquiry right through to delivery. The company has noticed a considerable improvement in their quoting ability which is now fast and efficient for all custom made joinery.
The company invests time and money in their staff, regularly taking on apprentices and promoting from within the company where possible. They currently have 5 apprentices, ranging from complete beginners to final year students. This year one of their lads won the 2012 award for Apprentice of the Year. Taking over the role of Estimator/Surveyor last year, Darren Byham, who also started as an apprentice with the company over 10 years before, has been able to learn the estimating process and the joinery software together. Darren says, "The opportunity arose to try something new and I took it. JMS has been easy to learn and I have never used anything else to estimate. The process is very quick and the efficiency in the office translates to improved work flow through the workshop."
Pre-JMS the company used to quote manually – a time consuming process and not very price consistent. Typed quotes were provided, but only included a final price and written description. Darren says, "Customers appreciate the printed images drawn by JMS. The detailed descriptions with the drawings mean that the customer understands exactly what we are providing, reducing confusion and making us much more professional. JMS makes my job much easier. As soon as the item is designed, the price is generated automatically along with the images and reports." Darren adds, "I am computer literate, but I think most people would be able to pick up JMS without too much of a problem. If I get stuck I have access to support through a helpline, providing telephone advice and remote assistance where necessary."
Since using JMS Oakwood Joinery Services has found that they can take on more work, providing a quicker path through the office and into the workshop. With further expansion planned for the future, they are confident that JMS will enable them to keep up with the workload.
JMS also provides all the information needed to produce the job, from setting out sheets to full cutting lists. JMS generated glass and timber order sheets are used by Oakwood Joinery Services to check current stock levels before ordering and the apprentices in the workshop are able to utilise JMS generated setting out sheets which provide an easy reference for the job and help them learn the trade.
With professional looking quotations, order confirmation, and delivery notes printed by JMS, customers of Oakwood Joinery Services are kept informed every step of the way. This high level of customer service leads to repeat orders and further business through word of mouth.
Darren concludes, "The best thing about JMS for me is the speed of quoting. An off the street enquiry can be dealt with immediately and before they leave they have an approved design with full details and itemised price in their hand. I don't have to pluck figures from the air, items are accurately priced within JMS."
Darren Byham
Oakwood Joinery Services Ltd
01787 880 600